About Us
Bhindi's is a Indian takeaway in Woodlingdean. Why don't you try our Kulfi or Pathia?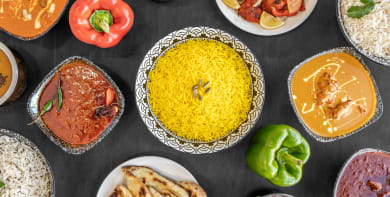 Reviews
390 reviews
Neil
"Great food great service"
27/09/2020
jack
"Fab, fresh, feeling fine."
26/09/2020
Lucy
"Nothing but love for Bhindis! Best curry in Brighton, always early and the delivery drivers are always really polite."
26/09/2020
Sarah
"Absolutely delicious, as always, and friendly delivery driver!"
25/09/2020
Menu
Mixed Kebab
Seekh kebab, shami kebab & chicken tikka
£4.95
Mixed Starter
Chicken tikka, lamb tikka, onion bhaji & seekh kebab
£5.95
Mixed Tikka Starter
Lamb & chicken tikka
£5.95
Zara Tikka Starter
Spicy & hot
£4.20
Bahar Chicken Tikka Masala
Creamy mild dish cooked with white chocolate
£9.95
Garlic Chicken Tikka Masala
£9.95
Mango Chicken Tikka Masala
£9.95
Tandoori King Prawn Masala
£11.50
Garlic Chicken Tikka Pasanda
£9.95
Mango Chicken Tikka Pasanda
£9.95
Chicken Tikka Pasanda Masala
£9.50
Tandoori King Prawn Pasanda
£11.50
Tandoori Vegetable Pasanda
£8.95
Garlic Chicken Tikka Bhoona
£9.95
Garlic Chicken & Lamb Bhoona
£9.95
Garlic Chilli King Prawn Bhoona
£11.50
Chingri Jhol Chicken Tikka
£10.50
Tandoori Golden Chicken
Two pieces of chicken in a special sauce with pesto, cream, mince meat, egg & tomato served with pilau rice
£11.95
Tandoori Mixed Grill Curry
£11.50
Gohst Kata Masala
Spring lamb, braised in sliced onion & ginger garlic & garam masala & served in a thick sauce
£11.95
Afghani
Tender chicken marinated in fruit juices blended with herbs & topped with almonds & mint sauce
£9.95
Lamb Kofta
Marinated meatballs cooked in a tandoori oven with a medium sauce & served with rice
£10.95
Gori Goan Fish Curry
Wonderful chunks of boneless fish smeared in fresh ground coconut & chilli sauce, cooked in clay oven & then added to a thick medium sauce
£9.95
King Prawn Tikka Chilli Masala
£11.50
Chicken Tikka Chilli Masala
£9.95
Walnut Wonder
Vanilla ice cream, topped with glazed walnut & caramel sauce
£4.50
Surprise Lemon
Whole orange OR lemon scooped & refilled with tangy sorbet
£4.50
Surprise Orange
Whole orange OR lemon scooped & refilled with tangy sorbet
£4.50
Royal Pot
Toffee flavoured ice cream, topped with delicious milk toffee pieces in an attractive pot
£4.50
Kulfi
Delicious Indian ice cream made from whole milk, nuts & fruits, choice of mango & pistachio flavours
£3.95
Egg Man
Strawberry & vanilla ice cream with chocolate chips, packed in a plastic cup with a funny surprise. Suitable for children
£4.50
Fantastica
Vanilla & caramel ice cream, with chocolate balls, toffee pieces & caramel
£4.50
Bhindi's House Special Chicken
A fairly hot dish cooked in a medium thick sauce with fresh herbs & spices, green chillies, capsicums & olives
£9.50
Bhindi's House Special King Prawn
A fairly hot dish cooked in a medium thick sauce with fresh herbs & spices, green chillies, capsicums & olives
£11.50
Bhindi's House Special Lamb
A fairly hot dish cooked in a medium thick sauce with fresh herbs & spices, green chillies, capsicums & olives
£9.95
Bhindi's House Special Vegetable
A fairly hot dish cooked in a medium thick sauce with fresh herbs & spices, green chillies, capsicums & olives
£8.50
Bhindi's House Special Prawn
A fairly hot dish cooked in a medium thick sauce with fresh herbs & spices, green chillies, capsicums & olives
£9.95
Achari Paneer Shashlik
Cubed paneer cheese, tomato, pepper & onion, steeped in yoghurt, pickling spices, the vegetarian choice in tandoori cooking
£10.50
Garlic Mushroom Chicken Tikka
£9.50
Garlic Mushroom Lamb Tikka
£10.50
Tandoori King Prawn Tikka
£10.50
Zara Tikka Main
Spicy & hot
£8.95
Mushroom Omelette
Served with French fries, peas, tomatoes & mushrooms
£9.50
Fried Chicken
Served with French fries, peas, tomatoes & mushrooms
£9.50
Chicken Omelette
Served with French fries, peas, tomatoes & mushrooms
£9.50
Biryani Chicken
Cooked with spices & basmati rice, garnished with cucumber, tomato & red onion
£6.95
Biryani Chicken Tikka
Cooked with spices & basmati rice, garnished with cucumber, tomato & red onion
£7.10
Biryani Lamb
Cooked with spices & basmati rice, garnished with cucumber, tomato & red onion
£7.75
Biryani Prawn
Cooked with spices & basmati rice, garnished with cucumber, tomato & red onion
£7.75
Biryani Paneer
Cooked with spices & basmati rice, garnished with cucumber, tomato & red onion
£7.95
Biryani Lamb Tikka
Cooked with spices & basmati rice, garnished with cucumber, tomato & red onion
£7.95
Biryani King Prawn
Cooked with spices & basmati rice, garnished with cucumber, tomato & red onion
£8.50
Biryani White Fish
Cooked with spices & basmati rice, garnished with cucumber, tomato & red onion
£8.50
Biryani Vegetable
Cooked with spices & basmati rice, garnished with cucumber, tomato & red onion
£6.50
Biryani Spinach
Cooked with spices & basmati rice, garnished with cucumber, tomato & red onion
£6.50
Biryani Mushroom
Cooked with spices & basmati rice, garnished with cucumber, tomato & red onion
£6.50
Biryani Okra
Cooked with spices & basmati rice, garnished with cucumber, tomato & red onion
£6.50
Biryani Aubergines
Cooked with spices & basmati rice, garnished with cucumber, tomato & red onion
£6.50
Biryani Chickpeas
Cooked with spices & basmati rice, garnished with cucumber, tomato & red onion
£6.50
Spiced of Garlic Poppadom
£1.25
Stuffed Naan
With vegetables
£3.50
Stuffed Paratha
With vegetables
£4.50
Makhani Vegetable
A mouth watering mild creamy dish cooked with cheese, cream & paneer cheese
Mild
£8.50
Makhani Chicken
A mouth watering mild creamy dish cooked with cheese, cream & paneer cheese
Mild
£9.50
Makhani Lamb
A mouth watering mild creamy dish cooked with cheese, cream & paneer cheese
Mild
£9.95
Makhani Prawn
A mouth watering mild creamy dish cooked with cheese, cream & paneer cheese
Mild
£8.50
Makhani King Prawn
A mouth watering mild creamy dish cooked with cheese, cream & paneer cheese
Mild
£11.50
Aloo Gobi
Cauliflower & potato
£3.95
Bhindi Bhaji
Ladies fingers
£3.95
Dali Sabzi
Mixed tarka daal & cauliflower
£3.95
Tarka Daal
Seasoned with garlic
£3.95
Saag Aloo
Potato with spinach
£3.95
Saag Chana
Spinach & chickpeas
£3.95
Curry Chicken
Medium spice, saucy dish with fresh green herbs & spices
£7.95
Curry Chicken Tikka
Medium spice, saucy dish with fresh green herbs & spices
£8.95
Curry Lamb
Medium spice, saucy dish with fresh green herbs & spices
£9.50
Curry Prawn
Medium spice, saucy dish with fresh green herbs & spices
£9.50
Curry Paneer
Medium spice, saucy dish with fresh green herbs & spices
£9.95
Curry Lamb Tikka
Medium spice, saucy dish with fresh green herbs & spices
£9.95
Curry King Prawn
Medium spice, saucy dish with fresh green herbs & spices
£9.95
Curry White Fish
Medium spice, saucy dish with fresh green herbs & spices
£9.95
Curry Vegetable
Medium spice, saucy dish with fresh green herbs & spices
£7.50
Curry Spinach
Medium spice, saucy dish with fresh green herbs & spices
£7.50
Curry Mushroom
Medium spice, saucy dish with fresh green herbs & spices
£7.50
Curry Okra
Medium spice, saucy dish with fresh green herbs & spices
£7.50
Curry Chickpeas
Medium spice, saucy dish with fresh green herbs & spices
£7.50
Curry Aubergines
Medium spice, saucy dish with fresh green herbs & spices
£7.50
Bhuna Chicken
A tasty dish cooked with slices of onion, spices & garnished with fresh tomato
£7.95
Bhuna Chicken Tikka
A tasty dish cooked with slices of onion, spices & garnished with fresh tomato
£8.95
Bhuna Lamb
A tasty dish cooked with slices of onion, spices & garnished with fresh tomato
£9.50
Bhuna Prawn
A tasty dish cooked with slices of onion, spices & garnished with fresh tomato
£9.50
Bhuna Paneer
A tasty dish cooked with slices of onion, spices & garnished with fresh tomato
£9.95
Bhuna Lamb Tikka
A tasty dish cooked with slices of onion, spices & garnished with fresh tomato
£9.95
Bhuna King Prawn
A tasty dish cooked with slices of onion, spices & garnished with fresh tomato
£9.95
Bhuna White Fish
A tasty dish cooked with slices of onion, spices & garnished with fresh tomato
£9.95
Bhuna Spinach
A tasty dish cooked with slices of onion, spices & garnished with fresh tomato
£7.50
Bhuna Vegetable
A tasty dish cooked with slices of onion, spices & garnished with fresh tomato
£7.50
Bhuna Mushroom
A tasty dish cooked with slices of onion, spices & garnished with fresh tomato
£7.50
Bhuna Chickpeas
A tasty dish cooked with slices of onion, spices & garnished with fresh tomato
£7.50
Bhuna Aubergines
A tasty dish cooked with slices of onion, spices & garnished with fresh tomato
£7.50
Dopiaza Chicken
Fresh, well seasoned onions cooked with spices to produce a rich, medium hot taste
£7.95
Dopiaza Chicken Tikka
Fresh, well seasoned onions cooked with spices to produce a rich, medium hot taste
£8.95
Dopiaza Lamb
Fresh, well seasoned onions cooked with spices to produce a rich, medium hot taste
£9.50
Dopiaza Prawn
Fresh, well seasoned onions cooked with spices to produce a rich, medium hot taste
£9.50
Dopiaza Paneer
Fresh, well seasoned onions cooked with spices to produce a rich, medium hot taste
£9.95
Dopiaza Lamb Tikka
Fresh, well seasoned onions cooked with spices to produce a rich, medium hot taste
£9.95
Dopiaza King Prawn
Fresh, well seasoned onions cooked with spices to produce a rich, medium hot taste
£9.95
Dopiaza White Fish
Fresh, well seasoned onions cooked with spices to produce a rich, medium hot taste
£9.95
Dopiaza Spinach
Fresh, well seasoned onions cooked with spices to produce a rich, medium hot taste
£7.50
Dopiaza Mushroom
Fresh, well seasoned onions cooked with spices to produce a rich, medium hot taste
£7.50
Dopiaza Okra
Fresh, well seasoned onions cooked with spices to produce a rich, medium hot taste
£7.50
Dopiaza Chickpeas
Fresh, well seasoned onions cooked with spices to produce a rich, medium hot taste
£7.50
Dopiaza Vegetable
Fresh, well seasoned onions cooked with spices to produce a rich, medium hot taste
£7.50
Dopiaza Aubergines
Fresh, well seasoned onions cooked with spices to produce a rich, medium hot taste
£7.50
Ceylon Chicken
A fairly spicy, hot dish cooked with coconut, coriander, coconut milk & cream
£7.95
Ceylon Chicken Tikka
A fairly spicy, hot dish cooked with coconut, coriander, coconut milk & cream
£8.95
Ceylon Lamb
A fairly spicy, hot dish cooked with coconut, coriander, coconut milk & cream
£9.50
Ceylon Prawn
A fairly spicy, hot dish cooked with coconut, coriander, coconut milk & cream
£9.50
Ceylon Paneer
A fairly spicy, hot dish cooked with coconut, coriander, coconut milk & cream
£9.95
Ceylon Lamb Tikka
A fairly spicy, hot dish cooked with coconut, coriander, coconut milk & cream
£9.95
Ceylon King Prawn
A fairly spicy, hot dish cooked with coconut, coriander, coconut milk & cream
£9.95
Ceylon White Fish
A fairly spicy, hot dish cooked with coconut, coriander, coconut milk & cream
£9.95
Ceylon Spinach
A fairly spicy, hot dish cooked with coconut, coriander, coconut milk & cream
£7.50
Ceylon Mushroom
A fairly spicy, hot dish cooked with coconut, coriander, coconut milk & cream
£7.50
Ceylon Okra
A fairly spicy, hot dish cooked with coconut, coriander, coconut milk & cream
£7.50
Ceylon Chickpeas
A fairly spicy, hot dish cooked with coconut, coriander, coconut milk & cream
£7.50
Ceylon Vegetable
A fairly spicy, hot dish cooked with coconut, coriander, coconut milk & cream
£7.50
Ceylon Aubergines
A fairly spicy, hot dish cooked with coconut, coriander, coconut milk & cream
£7.50
Korma Chicken
Mild, sweet & creamy, made with subtle spices
£7.95
Korma Chicken Tikka
Mild, sweet & creamy, made with subtle spices
£8.95
Korma Lamb
Mild, sweet & creamy, made with subtle spices
£9.50
Korma Prawn
Mild, sweet & creamy, made with subtle spices
£9.50
Korma Paneer
Mild, sweet & creamy, made with subtle spices
£9.95
Korma Lamb Tikka
Mild, sweet & creamy, made with subtle spices
£9.95
Korma King Prawn
Mild, sweet & creamy, made with subtle spices
£9.95
Korma White Fish
Mild, sweet & creamy, made with subtle spices
£9.95
Korma Spinach
Mild, sweet & creamy, made with subtle spices
£7.50
Korma Mushroom
Mild, sweet & creamy, made with subtle spices
£7.50
Korma Okra
Mild, sweet & creamy, made with subtle spices
£7.50
Korma Chickpeas
Mild, sweet & creamy, made with subtle spices
£7.50
Korma Vegetable
Mild, sweet & creamy, made with subtle spices
£7.50
Korma Aubergines
Mild, sweet & creamy, made with subtle spices
£7.50
Malayan Chicken
Mild, sweet & creamy dish, made with subtle spices, coconut, pineapple, coconut milk & cream
£7.95
Malayan Chicken Tikka
Mild, sweet & creamy dish, made with subtle spices, coconut, pineapple, coconut milk & cream
£8.95
Malayan Lamb
Mild, sweet & creamy dish, made with subtle spices, coconut, pineapple, coconut milk & cream
£9.50
Malayan Prawn
Mild, sweet & creamy dish, made with subtle spices, coconut, pineapple, coconut milk & cream
£9.50
Malayan Paneer
Mild, sweet & creamy dish, made with subtle spices, coconut, pineapple, coconut milk & cream
£9.95
Malayan Lamb Tikka
Mild, sweet & creamy dish, made with subtle spices, coconut, pineapple, coconut milk & cream
£9.95
Malayan King Prawn
Mild, sweet & creamy dish, made with subtle spices, coconut, pineapple, coconut milk & cream
£9.95
Malayan White Fish
Mild, sweet & creamy dish, made with subtle spices, coconut, pineapple, coconut milk & cream
£9.95
Malayan Spinach
Mild, sweet & creamy dish, made with subtle spices, coconut, pineapple, coconut milk & cream
£7.50
Malayan Mushroom
Mild, sweet & creamy dish, made with subtle spices, coconut, pineapple, coconut milk & cream
£7.50
Malayan Okra
Mild, sweet & creamy dish, made with subtle spices, coconut, pineapple, coconut milk & cream
£7.50
Malayan Chickpeas
Mild, sweet & creamy dish, made with subtle spices, coconut, pineapple, coconut milk & cream
£7.50
Malayan Vegetable
Mild, sweet & creamy dish, made with subtle spices, coconut, pineapple, coconut milk & cream
£7.50
Malayan Aubergines
Mild, sweet & creamy dish, made with subtle spices, coconut, pineapple, coconut milk & cream
£7.50
Kashmiri Chicken
Mild, prepared with coconut, fresh cream & fruit mix
£7.95
Kashmiri Chicken Tikka
Mild, prepared with coconut, fresh cream & fruit mix
£8.95
Kashmiri Lamb
Mild, prepared with coconut, fresh cream & fruit mix
£9.50
Kashmiri Prawn
Mild, prepared with coconut, fresh cream & fruit mix
£9.50
Kashmiri Paneer
Mild, prepared with coconut, fresh cream & fruit mix
£9.95
Kashmiri Lamb Tikka
Mild, prepared with coconut, fresh cream & fruit mix
£9.95
Kashmiri King Prawn
Mild, prepared with coconut, fresh cream & fruit mix
£9.95
Kashmiri White Fish
Mild, prepared with coconut, fresh cream & fruit mix
£9.95
Kashmiri Spinach
Mild, prepared with coconut, fresh cream & fruit mix
£7.50
Kashmiri Mushroom
Mild, prepared with coconut, fresh cream & fruit mix
£7.50
Kashmiri Okra
Mild, prepared with coconut, fresh cream & fruit mix
£7.50
Kashmiri Chickpeas
Mild, prepared with coconut, fresh cream & fruit mix
£7.50
Kashmiri Vegetable
Mild, prepared with coconut, fresh cream & fruit mix
£7.50
Kashmiri Aubergines
Mild, prepared with coconut, fresh cream & fruit mix
£7.50
Rogan Chicken
Prepared using pimento & garlic, garnished with tomatoes & green peppers. Medium spice & saucy
£7.95
Rogan Chicken Tikka
Prepared using pimento & garlic, garnished with tomatoes & green peppers. Medium spice & saucy
£8.95
Rogan Lamb
Prepared using pimento & garlic, garnished with tomatoes & green peppers. Medium spice & saucy
£9.50
Rogan Prawn
Prepared using pimento & garlic, garnished with tomatoes & green peppers. Medium spice & saucy
£9.50
Rogan Paneer
Prepared using pimento & garlic, garnished with tomatoes & green peppers. Medium spice & saucy
£9.95
Rogan Lamb Tikka
Prepared using pimento & garlic, garnished with tomatoes & green peppers. Medium spice & saucy
£9.95
Rogan King Prawn
Prepared using pimento & garlic, garnished with tomatoes & green peppers. Medium spice & saucy
£9.95
Rogan White Fish
Prepared using pimento & garlic, garnished with tomatoes & green peppers. Medium spice & saucy
£9.95
Rogan Spinach
Prepared using pimento & garlic, garnished with tomatoes & green peppers. Medium spice & saucy
£7.50
Rogan Mushroom
Prepared using pimento & garlic, garnished with tomatoes & green peppers. Medium spice & saucy
£7.50
Rogan Okra
Prepared using pimento & garlic, garnished with tomatoes & green peppers. Medium spice & saucy
£7.50
Rogan Chickpeas
Prepared using pimento & garlic, garnished with tomatoes & green peppers. Medium spice & saucy
£7.50
Rogan Vegetable
Prepared using pimento & garlic, garnished with tomatoes & green peppers. Medium spice & saucy
£7.50
Rogan Aubergines
Prepared using pimento & garlic, garnished with tomatoes & green peppers. Medium spice & saucy
£7.50
Madras Chicken
Hot dish, cooked in a hot & juicy sauce with fresh green herbs & spices
£7.95
Madras Chicken Tikka
Hot dish, cooked in a hot & juicy sauce with fresh green herbs & spices
£8.95
Madras Lamb
Hot dish, cooked in a hot & juicy sauce with fresh green herbs & spices
£9.50
Madras Prawn
Hot dish, cooked in a hot & juicy sauce with fresh green herbs & spices
£9.50
Madras Paneer
Hot dish, cooked in a hot & juicy sauce with fresh green herbs & spices
£9.95
Madras Lamb Tikka
Hot dish, cooked in a hot & juicy sauce with fresh green herbs & spices
£9.95
Madras King Prawn
Hot dish, cooked in a hot & juicy sauce with fresh green herbs & spices
£9.95
Madras White Fish
Hot dish, cooked in a hot & juicy sauce with fresh green herbs & spices
£9.95
Madras Spinach
Hot dish, cooked in a hot & juicy sauce with fresh green herbs & spices
£7.50
Madras Mushroom
Hot dish, cooked in a hot & juicy sauce with fresh green herbs & spices
£7.50
Madras Okra
Hot dish, cooked in a hot & juicy sauce with fresh green herbs & spices
£7.50
Madras Chickpeas
Hot dish, cooked in a hot & juicy sauce with fresh green herbs & spices
£7.50
Madras Vegetable
Hot dish, cooked in a hot & juicy sauce with fresh green herbs & spices
£7.50
Madras Aubergines
Hot dish, cooked in a hot & juicy sauce with fresh green herbs & spices
£7.50
Vindaloo Chicken
A very hot dish cooked with fresh herbs & spices, coriander & potato
£7.95
Vindaloo Chicken Tikka
A very hot dish cooked with fresh herbs & spices, coriander & potato
£8.95
Vindaloo Lamb
A very hot dish cooked with fresh herbs & spices, coriander & potato
£9.50
Vindaloo Prawn
A very hot dish cooked with fresh herbs & spices, coriander & potato
£9.50
Vindaloo Paneer
A very hot dish cooked with fresh herbs & spices, coriander & potato
£9.95
Vindaloo Lamb Tikka
A very hot dish cooked with fresh herbs & spices, coriander & potato
£9.95
Vindaloo King Prawn
A very hot dish cooked with fresh herbs & spices, coriander & potato
£9.95
Vindaloo White Fish
A very hot dish cooked with fresh herbs & spices, coriander & potato
£9.95
Vindaloo Spinach
A very hot dish cooked with fresh herbs & spices, coriander & potato
£7.50
Vindaloo Mushroom
A very hot dish cooked with fresh herbs & spices, coriander & potato
£7.50
Vindaloo Okra
A very hot dish cooked with fresh herbs & spices, coriander & potato
£7.50
Vindaloo Chickpeas
A very hot dish cooked with fresh herbs & spices, coriander & potato
£7.50
Vindaloo Vegetable
A very hot dish cooked with fresh herbs & spices, coriander & potato
£7.50
Vindaloo Aubergines
A very hot dish cooked with fresh herbs & spices, coriander & potato
£7.50
Dansak Chicken
Cooked with onion in a thick sauce with lentils, sweet, sour & slightly hot, garnished with lemon
£7.95
Dansak Chicken Tikka
Cooked with onion in a thick sauce with lentils, sweet, sour & slightly hot, garnished with lemon
£8.95
Dansak Lamb
Cooked with onion in a thick sauce with lentils, sweet, sour & slightly hot, garnished with lemon
£9.50
Dansak Prawn
Cooked with onion in a thick sauce with lentils, sweet, sour & slightly hot, garnished with lemon
£9.50
Dansak Paneer
Cooked with onion in a thick sauce with lentils, sweet, sour & slightly hot, garnished with lemon
£9.95
Dansak Lamb Tikka
Cooked with onion in a thick sauce with lentils, sweet, sour & slightly hot, garnished with lemon
£9.95
Dansak King Prawn
Cooked with onion in a thick sauce with lentils, sweet, sour & slightly hot, garnished with lemon
£9.95
Dansak White Fish
Cooked with onion in a thick sauce with lentils, sweet, sour & slightly hot, garnished with lemon
£9.95
Dansak Spinach
Cooked with onion in a thick sauce with lentils, sweet, sour & slightly hot, garnished with lemon
£7.50
Dansak Mushroom
Cooked with onion in a thick sauce with lentils, sweet, sour & slightly hot, garnished with lemon
£7.50
Dansak Okra
Cooked with onion in a thick sauce with lentils, sweet, sour & slightly hot, garnished with lemon
£7.50
Dansak Chickpeas
Cooked with onion in a thick sauce with lentils, sweet, sour & slightly hot, garnished with lemon
£7.50
Dansak Vegetable
Cooked with onion in a thick sauce with lentils, sweet, sour & slightly hot, garnished with lemon
£7.50
Dansak Aubergines
Cooked with onion in a thick sauce with lentils, sweet, sour & slightly hot, garnished with lemon
£7.50
Pathia Chicken
Cooked with onion & tomatoes in a thick sauce, sweet, sour & slightly hot, garnished with cucumber
£7.95
Pathia Chicken Tikka
Cooked with onion & tomatoes in a thick sauce, sweet, sour & slightly hot, garnished with cucumber
£8.95
Pathia Lamb
Cooked with onion & tomatoes in a thick sauce, sweet, sour & slightly hot, garnished with cucumber
£9.50
Pathia Prawn
Cooked with onion & tomatoes in a thick sauce, sweet, sour & slightly hot, garnished with cucumber
£9.50
Pathia Paneer
Cooked with onion & tomatoes in a thick sauce, sweet, sour & slightly hot, garnished with cucumber
£9.95
Pathia Lamb Tikka
Cooked with onion & tomatoes in a thick sauce, sweet, sour & slightly hot, garnished with cucumber
£9.95
Pathia King Prawn
Cooked with onion & tomatoes in a thick sauce, sweet, sour & slightly hot, garnished with cucumber
£9.95
Pathia White Fish
Cooked with onion & tomatoes in a thick sauce, sweet, sour & slightly hot, garnished with cucumber
£9.95
Pathia Spinach
Cooked with onion & tomatoes in a thick sauce, sweet, sour & slightly hot, garnished with cucumber
£7.50
Pathia Mushroom
Cooked with onion & tomatoes in a thick sauce, sweet, sour & slightly hot, garnished with cucumber
£7.50
Pathia Okra
Cooked with onion & tomatoes in a thick sauce, sweet, sour & slightly hot, garnished with cucumber
£7.50
Pathia Chickpeas
Cooked with onion & tomatoes in a thick sauce, sweet, sour & slightly hot, garnished with cucumber
£7.50
Pathia Vegetable
Cooked with onion & tomatoes in a thick sauce, sweet, sour & slightly hot, garnished with cucumber
£7.50
Pathia Aubergines
Cooked with onion & tomatoes in a thick sauce, sweet, sour & slightly hot, garnished with cucumber
£7.50
Jalali Chicken
A real authentic hot dish cooked with whole red chillies, capsicums, peppers, coriander & special herbs & spices
£7.95
Jalali Chicken Tikka
A real authentic hot dish cooked with whole red chillies, capsicums, peppers, coriander & special herbs & spices
£8.95
Jalali Lamb
A real authentic hot dish cooked with whole red chillies, capsicums, peppers, coriander & special herbs & spices
£9.50
Jalali Prawn
A real authentic hot dish cooked with whole red chillies, capsicums, peppers, coriander & special herbs & spices
£9.50
Jalali Paneer
A real authentic hot dish cooked with whole red chillies, capsicums, peppers, coriander & special herbs & spices
£9.95
Jalali Lamb Tikka
A real authentic hot dish cooked with whole red chillies, capsicums, peppers, coriander & special herbs & spices
£9.95
Jalali King Prawn
A real authentic hot dish cooked with whole red chillies, capsicums, peppers, coriander & special herbs & spices
£9.95
Jalali White Fish
A real authentic hot dish cooked with whole red chillies, capsicums, peppers, coriander & special herbs & spices
£9.95
Jalali Spinach
A real authentic hot dish cooked with whole red chillies, capsicums, peppers, coriander & special herbs & spices
£7.50
Jalali Mushroom
A real authentic hot dish cooked with whole red chillies, capsicums, peppers, coriander & special herbs & spices
£7.50
Jalali Okra
A real authentic hot dish cooked with whole red chillies, capsicums, peppers, coriander & special herbs & spices
£7.50
Jalali Chickpeas
A real authentic hot dish cooked with whole red chillies, capsicums, peppers, coriander & special herbs & spices
£7.50
Jalali Vegetable
A real authentic hot dish cooked with whole red chillies, capsicums, peppers, coriander & special herbs & spices
£7.50
Jalali Aubergines
A real authentic hot dish cooked with whole red chillies, capsicums, peppers, coriander & special herbs & spices
£7.50
Korai Chicken
Medium to hot, cooked with onions, peppers, yoghurt, a hint of lemon with green herbs & spices
£7.95
Korai Chicken Tikka
Medium to hot, cooked with onions, peppers, yoghurt, a hint of lemon with green herbs & spices
£8.95
Korai Lamb
Medium to hot, cooked with onions, peppers, yoghurt, a hint of lemon with green herbs & spices
£9.50
Korai Prawn
Medium to hot, cooked with onions, peppers, yoghurt, a hint of lemon with green herbs & spices
£9.50
Korai Paneer
Medium to hot, cooked with onions, peppers, yoghurt, a hint of lemon with green herbs & spices
£9.95
Korai Lamb Tikka
Medium to hot, cooked with onions, peppers, yoghurt, a hint of lemon with green herbs & spices
£9.95
Korai King Prawn
Medium to hot, cooked with onions, peppers, yoghurt, a hint of lemon with green herbs & spices
£9.95
Korai White Fish
Medium to hot, cooked with onions, peppers, yoghurt, a hint of lemon with green herbs & spices
£9.95
Korai Spinach
Medium to hot, cooked with onions, peppers, yoghurt, a hint of lemon with green herbs & spices
£7.50
Korai Mushroom
Medium to hot, cooked with onions, peppers, yoghurt, a hint of lemon with green herbs & spices
£7.50
Korai Okra
Medium to hot, cooked with onions, peppers, yoghurt, a hint of lemon with green herbs & spices
£7.50
Korai Chickpeas
Medium to hot, cooked with onions, peppers, yoghurt, a hint of lemon with green herbs & spices
£7.50
Korai Vegetable
Medium to hot, cooked with onions, peppers, yoghurt, a hint of lemon with green herbs & spices
£7.50
Korai Aubergines
Medium to hot, cooked with onions, peppers, yoghurt, a hint of lemon with green herbs & spices
£7.50
Phall Chicken
Extremely hot
£7.95
Phall Chicken Tikka
Extremely hot
£8.95
Phall Prawn
Extremely hot
£9.50
Phall Paneer
Extremely hot
£9.95
Phall Lamb Tikka
Extremely hot
£9.95
Phall King Prawn
Extremely hot
£9.95
Phall White Fish
Extremely hot
£9.95
Phall Spinach
Extremely hot
£7.50
Phall Mushroom
Extremely hot
£7.50
Phall Chickpeas
Extremely hot
£7.50
Phall Vegetable
Extremely hot
£7.50
Phall Aubergines
Extremely hot
£7.50
Balti Chicken
A tasty dish cooked with slices of onion, spices & garnished with fresh tomato
£7.95
Balti Chicken Tikka
A tasty dish cooked with slices of onion, spices & garnished with fresh tomato
£8.95
Balti Lamb
A tasty dish cooked with slices of onion, spices & garnished with fresh tomato
£9.50
Balti Prawn
A tasty dish cooked with slices of onion, spices & garnished with fresh tomato
£9.50
Balti Paneer
A tasty dish cooked with slices of onion, spices & garnished with fresh tomato
£9.95
Balti Lamb Tikka
A tasty dish cooked with slices of onion, spices & garnished with fresh tomato
£9.95
Balti King Prawn
A tasty dish cooked with slices of onion, spices & garnished with fresh tomato
£9.95
Balti White Fish
A tasty dish cooked with slices of onion, spices & garnished with fresh tomato
£9.95
Balti Spinach
A tasty dish cooked with slices of onion, spices & garnished with fresh tomato
£7.50
Balti Mushroom
A tasty dish cooked with slices of onion, spices & garnished with fresh tomato
£7.50
Balti Okra
A tasty dish cooked with slices of onion, spices & garnished with fresh tomato
£7.50
Balti Chickpeas
A tasty dish cooked with slices of onion, spices & garnished with fresh tomato
£7.50
Balti Vegetable
A tasty dish cooked with slices of onion, spices & garnished with fresh tomato
£7.50
Balti Aubergines
A tasty dish cooked with slices of onion, spices & garnished with fresh tomato
£7.50
Shazna Chicken
A medium to hot dish cooked with selected green spices, herbs & flavours of Indian homemade pickles
£7.95
Shazna Chicken Tikka
A medium to hot dish cooked with selected green spices, herbs & flavours of Indian homemade pickles
£8.95
Shazna Lamb
A medium to hot dish cooked with selected green spices, herbs & flavours of Indian homemade pickles
£9.50
Shazna Prawn
A medium to hot dish cooked with selected green spices, herbs & flavours of Indian homemade pickles
£9.50
Shazna Paneer
A medium to hot dish cooked with selected green spices, herbs & flavours of Indian homemade pickles
£9.95
Shazna Lamb Tikka
A medium to hot dish cooked with selected green spices, herbs & flavours of Indian homemade pickles
£9.95
Shazna King Prawn
A medium to hot dish cooked with selected green spices, herbs & flavours of Indian homemade pickles
£9.95
Shazna White Fish
A medium to hot dish cooked with selected green spices, herbs & flavours of Indian homemade pickles
£9.95
Shazna Spinach
A medium to hot dish cooked with selected green spices, herbs & flavours of Indian homemade pickles
£7.50
Shazna Mushroom
A medium to hot dish cooked with selected green spices, herbs & flavours of Indian homemade pickles
£7.50
Shazna Okra
A medium to hot dish cooked with selected green spices, herbs & flavours of Indian homemade pickles
£7.50
Shazna Chickpeas
A medium to hot dish cooked with selected green spices, herbs & flavours of Indian homemade pickles
£7.50
Shazna Vegetable
A medium to hot dish cooked with selected green spices, herbs & flavours of Indian homemade pickles
£7.50
Shazna Aubergines
A medium to hot dish cooked with selected green spices, herbs & flavours of Indian homemade pickles
£7.50
Jalfrezi Chicken
A hot dish cooked with fresh green chillies, onion, capsicums, tomato, coriander & curry leaves
£7.95
Jalfrezi Chicken Tikka
A hot dish cooked with fresh green chillies, onion, capsicums, tomato, coriander & curry leaves
£8.95
Jalfrezi Lamb
A hot dish cooked with fresh green chillies, onion, capsicums, tomato, coriander & curry leaves
£9.50
Jalfrezi Prawn
A hot dish cooked with fresh green chillies, onion, capsicums, tomato, coriander & curry leaves
£9.50
Jalfrezi Paneer
A hot dish cooked with fresh green chillies, onion, capsicums, tomato, coriander & curry leaves
£9.95
Jalfrezi Lamb Tikka
A hot dish cooked with fresh green chillies, onion, capsicums, tomato, coriander & curry leaves
£9.95
Jalfrezi King Prawn
A hot dish cooked with fresh green chillies, onion, capsicums, tomato, coriander & curry leaves
£9.95
Jalfrezi White Fish
A hot dish cooked with fresh green chillies, onion, capsicums, tomato, coriander & curry leaves
£9.95
Jalfrezi Spinach
A hot dish cooked with fresh green chillies, onion, capsicums, tomato, coriander & curry leaves
£7.50
Jalfrezi Mushroom
A hot dish cooked with fresh green chillies, onion, capsicums, tomato, coriander & curry leaves
£7.50
Jalfrezi Okra
A hot dish cooked with fresh green chillies, onion, capsicums, tomato, coriander & curry leaves
£7.50
Jalfrezi Chickpeas
A hot dish cooked with fresh green chillies, onion, capsicums, tomato, coriander & curry leaves
£7.50
Jalfrezi Vegetable
A hot dish cooked with fresh green chillies, onion, capsicums, tomato, coriander & curry leaves
£7.50
Jalfrezi Aubergines
A hot dish cooked with fresh green chillies, onion, capsicums, tomato, coriander & curry leaves
£7.50
Shahi Chicken
A very rich dish, slightly sweet & sour with onions & a pepper, yoghurt & coriander sauce
£7.95
Shahi Chicken Tikka
A very rich dish, slightly sweet & sour with onions & a pepper, yoghurt & coriander sauce
£8.95
Shahi Lamb
A very rich dish, slightly sweet & sour with onions & a pepper, yoghurt & coriander sauce
£9.50
Shahi Prawn
A very rich dish, slightly sweet & sour with onions & a pepper, yoghurt & coriander sauce
£9.50
Shahi Paneer
A very rich dish, slightly sweet & sour with onions & a pepper, yoghurt & coriander sauce
£9.95
Shahi Lamb Tikka
A very rich dish, slightly sweet & sour with onions & a pepper, yoghurt & coriander sauce
£9.95
Shahi King Prawn
A very rich dish, slightly sweet & sour with onions & a pepper, yoghurt & coriander sauce
£9.95
Shahi White Fish
A very rich dish, slightly sweet & sour with onions & a pepper, yoghurt & coriander sauce
£9.95
Shahi Spinach
A very rich dish, slightly sweet & sour with onions & a pepper, yoghurt & coriander sauce
£7.50
Shahi Mushroom
A very rich dish, slightly sweet & sour with onions & a pepper, yoghurt & coriander sauce
£7.50
Shahi Okra
A very rich dish, slightly sweet & sour with onions & a pepper, yoghurt & coriander sauce
£7.50
Shahi Chickpeas
A very rich dish, slightly sweet & sour with onions & a pepper, yoghurt & coriander sauce
£7.50
Shahi Vegetable
A very rich dish, slightly sweet & sour with onions & a pepper, yoghurt & coriander sauce
£7.50
Shahi Aubergines
A very rich dish, slightly sweet & sour with onions & a pepper, yoghurt & coriander sauce
£7.50
Nepali Chicken
Cooked in a medium thick sauce with roasted fennel seeds, green pepper, tomato & a chilli, yoghurt sauce
£7.95
Nepali Chicken Tikka
Cooked in a medium thick sauce with roasted fennel seeds, green pepper, tomato & a chilli, yoghurt sauce
£8.95
Nepali Lamb
Cooked in a medium thick sauce with roasted fennel seeds, green pepper, tomato & a chilli, yoghurt sauce
£9.50
Nepali Prawn
Cooked in a medium thick sauce with roasted fennel seeds, green pepper, tomato & a chilli, yoghurt sauce
£9.50
Nepali Paneer
Cooked in a medium thick sauce with roasted fennel seeds, green pepper, tomato & a chilli, yoghurt sauce
£9.95
Nepali Lamb Tikka
Cooked in a medium thick sauce with roasted fennel seeds, green pepper, tomato & a chilli, yoghurt sauce
£9.95
Nepali King Prawn
Cooked in a medium thick sauce with roasted fennel seeds, green pepper, tomato & a chilli, yoghurt sauce
£9.95
Nepali White Fish
Cooked in a medium thick sauce with roasted fennel seeds, green pepper, tomato & a chilli, yoghurt sauce
£9.95
Nepali Spinach
Cooked in a medium thick sauce with roasted fennel seeds, green pepper, tomato & a chilli, yoghurt sauce
£7.50
Nepali Mushroom
Cooked in a medium thick sauce with roasted fennel seeds, green pepper, tomato & a chilli, yoghurt sauce
£7.50
Nepali Okra
Cooked in a medium thick sauce with roasted fennel seeds, green pepper, tomato & a chilli, yoghurt sauce
£7.50
Nepali Chickpeas
Cooked in a medium thick sauce with roasted fennel seeds, green pepper, tomato & a chilli, yoghurt sauce
£7.50
Nepali Vegetable
Cooked in a medium thick sauce with roasted fennel seeds, green pepper, tomato & a chilli, yoghurt sauce
£7.50
Nepali Aubergines
Cooked in a medium thick sauce with roasted fennel seeds, green pepper, tomato & a chilli, yoghurt sauce
£7.50
Alvida Chicken
Hot, sweet & sour cooked with fresh herbs & spices, green chilli, onion, coriander & coconut milk & cream
£7.95
Alvida Chicken Tikka
Hot, sweet & sour cooked with fresh herbs & spices, green chilli, onion, coriander & coconut milk & cream
£8.95
Alvida Lamb
Hot, sweet & sour cooked with fresh herbs & spices, green chilli, onion, coriander & coconut milk & cream
£9.50
Alvida Prawn
Hot, sweet & sour cooked with fresh herbs & spices, green chilli, onion, coriander & coconut milk & cream
£9.50
Alvida Paneer
Hot, sweet & sour cooked with fresh herbs & spices, green chilli, onion, coriander & coconut milk & cream
£9.95
Alvida Lamb Tikka
Hot, sweet & sour cooked with fresh herbs & spices, green chilli, onion, coriander & coconut milk & cream
£9.95
Alvida King Prawn
Hot, sweet & sour cooked with fresh herbs & spices, green chilli, onion, coriander & coconut milk & cream
£9.95
Alvida White Fish
Hot, sweet & sour cooked with fresh herbs & spices, green chilli, onion, coriander & coconut milk & cream
£9.95
Alvida Spinach
Hot, sweet & sour cooked with fresh herbs & spices, green chilli, onion, coriander & coconut milk & cream
£7.50
Alvida Mushroom
Hot, sweet & sour cooked with fresh herbs & spices, green chilli, onion, coriander & coconut milk & cream
£7.50
Alvida Okra
Hot, sweet & sour cooked with fresh herbs & spices, green chilli, onion, coriander & coconut milk & cream
£7.50
Alvida Chickpeas
Hot, sweet & sour cooked with fresh herbs & spices, green chilli, onion, coriander & coconut milk & cream
£7.50
Alvida Vegetable
Hot, sweet & sour cooked with fresh herbs & spices, green chilli, onion, coriander & coconut milk & cream
£7.50
Alvida Aubergines
Hot, sweet & sour cooked with fresh herbs & spices, green chilli, onion, coriander & coconut milk & cream
£7.50
Zara Lebu Chicken
A medium to hot dish cooked in a thick sauce with onions, tomato, green chilli, fresh curry leaves & Indian lemon extract
£7.95
Zara Lebu Chicken Tikka
A medium to hot dish cooked in a thick sauce with onions, tomato, green chilli, fresh curry leaves & Indian lemon extract
£8.95
Zara Lebu Lamb
A medium to hot dish cooked in a thick sauce with onions, tomato, green chilli, fresh curry leaves & Indian lemon extract
£9.50
Zara Lebu Prawn
A medium to hot dish cooked in a thick sauce with onions, tomato, green chilli, fresh curry leaves & Indian lemon extract
£9.50
Zara Lebu Paneer
A medium to hot dish cooked in a thick sauce with onions, tomato, green chilli, fresh curry leaves & Indian lemon extract
£9.95
Zara Lebu Lamb Tikka
A medium to hot dish cooked in a thick sauce with onions, tomato, green chilli, fresh curry leaves & Indian lemon extract
£9.95
Zara Lebu King Prawn
A medium to hot dish cooked in a thick sauce with onions, tomato, green chilli, fresh curry leaves & Indian lemon extract
£9.95
Zara Lebu White Fish
A medium to hot dish cooked in a thick sauce with onions, tomato, green chilli, fresh curry leaves & Indian lemon extract
£9.95
Zara Lebu Spinach
A medium to hot dish cooked in a thick sauce with onions, tomato, green chilli, fresh curry leaves & Indian lemon extract
£7.50
Zara Lebu Mushroom
A medium to hot dish cooked in a thick sauce with onions, tomato, green chilli, fresh curry leaves & Indian lemon extract
£7.50
Zara Lebu Okra
A medium to hot dish cooked in a thick sauce with onions, tomato, green chilli, fresh curry leaves & Indian lemon extract
£7.50
Zara Lebu Chickpeas
A medium to hot dish cooked in a thick sauce with onions, tomato, green chilli, fresh curry leaves & Indian lemon extract
£7.50
Zara Lebu Vegetable
A medium to hot dish cooked in a thick sauce with onions, tomato, green chilli, fresh curry leaves & Indian lemon extract
£7.50
Zara Lebu Aubergines
A medium to hot dish cooked in a thick sauce with onions, tomato, green chilli, fresh curry leaves & Indian lemon extract
£7.50
Achari Chicken
Another wonderful creation of chef's own special dish cooked with various Indian pickles
£7.95
Achari Chicken Tikka
Another wonderful creation of chef's own special dish cooked with various Indian pickles
£8.95
Achari Lamb
Another wonderful creation of chef's own special dish cooked with various Indian pickles
£9.50
Achari Prawn
Another wonderful creation of chef's own special dish cooked with various Indian pickles
£9.50
Achari Paneer
Another wonderful creation of chef's own special dish cooked with various Indian pickles
£9.95
Achari Lamb Tikka
Another wonderful creation of chef's own special dish cooked with various Indian pickles
£9.95
Achari King Prawn
Another wonderful creation of chef's own special dish cooked with various Indian pickles
£9.95
Achari White Fish
Another wonderful creation of chef's own special dish cooked with various Indian pickles
£9.95
Achari Spinach
Another wonderful creation of chef's own special dish cooked with various Indian pickles
£7.50
Achari Mushroom
Another wonderful creation of chef's own special dish cooked with various Indian pickles
£7.50
Achari Okra
Another wonderful creation of chef's own special dish cooked with various Indian pickles
£7.50
Achari Chickpeas
Another wonderful creation of chef's own special dish cooked with various Indian pickles
£7.50
Achari Vegetable
Another wonderful creation of chef's own special dish cooked with various Indian pickles
£7.50
Achari Aubergines
Another wonderful creation of chef's own special dish cooked with various Indian pickles
£7.50
Saag Chicken
A leaf based dish cooked in a rich tomato & curry cream sauce
£7.95
Saag Chicken Tikka
A leaf based dish cooked in a rich tomato & curry cream sauce
£8.95
Saag Lamb
A leaf based dish cooked in a rich tomato & curry cream sauce
£9.50
Saag Prawn
A leaf based dish cooked in a rich tomato & curry cream sauce
£9.50
Saag Paneer
A leaf based dish cooked in a rich tomato & curry cream sauce
£9.95
Saag Lamb Tikka
A leaf based dish cooked in a rich tomato & curry cream sauce
£9.95
Saag King Prawn
A leaf based dish cooked in a rich tomato & curry cream sauce
£9.95
Saag White Fish
A leaf based dish cooked in a rich tomato & curry cream sauce
£9.95
Saag Spinach
A leaf based dish cooked in a rich tomato & curry cream sauce
£7.50
Saag Mushroom
A leaf based dish cooked in a rich tomato & curry cream sauce
£7.50
Saag Okra
A leaf based dish cooked in a rich tomato & curry cream sauce
£7.50
Saag Chickpeas
A leaf based dish cooked in a rich tomato & curry cream sauce
£7.50
Saag Vegetable
A leaf based dish cooked in a rich tomato & curry cream sauce
£7.50
Saag Aubergines
A leaf based dish cooked in a rich tomato & curry cream sauce
£7.50
Contact Us
Find Us
166 Lewes Road, Brighton, BN23LD
We deliver to
BN1, BN2, BN3